About Us

This website is maintained on a shoe-string budget by Barb, our lead origami artist and writer, with the help of several amazing volunteers and fellow folders, and with generous contributions from fans just like you.
Barb became hooked on origami in 1971 when, as a young teen, she had the wonderful experience of spending a summer in Japan. She learned origami from her gracious Japanese hosts and from the many books she collected during her visit.

This site allows her to combine her passion for teaching origami with the skills acquired through a long career in information technology and technical writing.

To help keep the free instructions and information coming, please consider helping with this site's production by purchasing products or services, or by making a donation below.

Any donation amount is greatly appreciated. For donations of $10 or more, we are offering the following thank-you gifts.
To thank you for your generous donation of $10 or more, we will send you a free two-pack of Barb's favorite origami tool.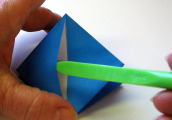 Barb says, "This simple plastic tool is my favorite because it's like 3 tools in 1.

1. The curved surface makes perfect creases.

2. The pointy end is good for lifting edges and for scoring thick papers before folding.

3. The blunt end helps open corners of squash folds."

To thank you for your generous donation of $25 or more, we will send you the creasing tool 2-pack and a 65-sheet pack of 5 7/8-inch Japanese-made origami paper in assorted colors, including one sheet each of gold and silver foil.