Origami Crafts and News
Spring 2013

Welcome!
This site is full of free origami instructions and ideas based on the art of Japanese paper folding.
This site is also all about taking your origami to the
next level
: You've folded a beautiful flower, animal, bird, whatever.
Now what do you do with it?
You'll find lots of ideas on this site! All of them from fellow folding enthusiasts.
All of the photos
on this page are clickable links to free instructions or more information.
Browse for more projects in our
Project Library
. You can browse all the models in our
Model Library
.
| | |
| --- | --- |
| NEW! Get extra project ideas and the latest info on my workshops on my Facebook page: | |
FREE WORKSHOPS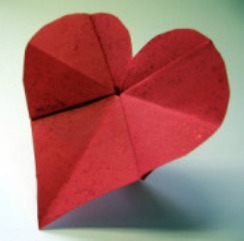 Make-It and Take-It
Barb does free monthly workshops at Artist and Display in Milwaukee, WI. Next one is:
To be announced

Read more
Or, check out our
Classes in Menomonee Falls

Read more
Or, plan your own
Custom Workshop or Party

Read more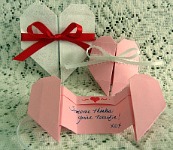 One of Our Most Popular Projects
is this pull-apart heart card that we found in a delightful book by Charlene Olexiewicz. For complete instructions,
click here
.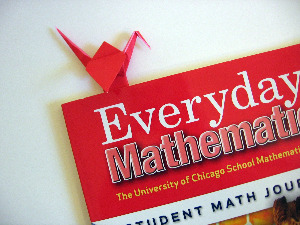 Peace Crane Bookmark >
This
bookmark
based on the symbol of peace and good luck is a nice gift to slip in your greeting cards. A favorite teacher or librarian is sure to appreciate one!
Make someone's day with origami! There are many more ideas below and in our
Project Library
and
Model Library
.
More Recent Projects and Articles
Party Fun!
Check out this idea: Have everyone make and decorate
their own hat.
Go>


Swan Love
Make two and surprise someone with a pop-up card. Go>




Origami Story
How being late for a haircut led to this box and more. Go>

Why...
is this pretty paper on a clothesline? Find the answer here.
Go>



Spring has Sprung!
Hot off the
presses are the instructions for
the easy flower from one of our recent workshops.
Go>


Sing Along!
Sarah and Ben fold cranes while listening to our own original song. You can, too!
Go>


Tip-Toe through
the Tulips
This tulip made
from the crane
base is a cinch!
Go>


Lily with Six Petals
Ready to move beyond the square? Try this realistic lily that starts with a triangular piece of paper. Go>

Something's Fishy
Make this easy goldfish. Then make a bunch
and turn them
into a mobile.
Go>

Big Bad Betta in a Bowl
Add plants and rocks, but please don't add water! Go>


Congratulate
the Lovebirds
Give them a card that stands out
from the rest.
Go>



5 Ways Origami is Extremely Good for You


and kids, seniors, and everyone in between. Go>


Shortage of rainbows and
leprechauns in your neighborhood? Well, then why not make your
own pot of gold?

Chocolate coins in this origami
box are as good as gold. Go>