Origami Crafts and News
Spring 2022
Please pardon my dust while I update this site.
Some info is out-of-date because I have moved to Hancock
in Central Wisconsin.

Welcome!  This site is full of free origami instructions and ideas based on the art of Japanese paper folding.

This site is also all about taking your origami to the next level:  You've folded a beautiful flower, animal, bird, whatever.  Now what do you do with it?  You'll find lots of ideas on this site!  All of them from fellow folding enthusiasts.

All of the photos on this page are clickable links to free instructions or more information.

Browse for more projects in my Project Library. You can browse all the models in my Model Library.
                                                          Happy folding!   --Barb Hermans


NEW! Upcoming Classes 2022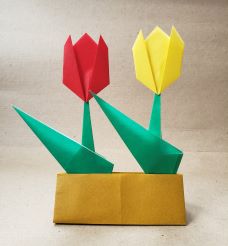 Classes in Central Wisconsin
Make a Tulip Display
Plainfield Public Library
Saturdays, April 2 and April 9, 2022
This is a 2-part class; attending both is best, but optional. Registration required.
For details and start time, please call the library: 715-335-4523
Or, plan your own
Custom Workshop or Party  
Please use the Contact Us link at left. Thanks!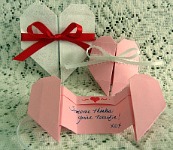 One of My Most Popular Projects is this pull-apart heart card that I found in a delightful book by Charlene Olexiewicz. For complete instructions, click here.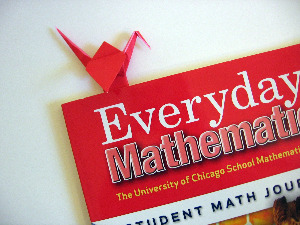 Peace Crane Bookmark >
This bookmark based on the symbol of peace and good luck is a nice gift to slip in your greeting cards. A favorite teacher or librarian is sure to appreciate one!


Make someone's day with origami! There are many more ideas below and in our Project Library and Model Library.
| | |
| --- | --- |
| Get extra project ideas on my Facebook page: | |
More Recent Projects and Articles
Party Fun!
Check out this idea: Have everyone make and decorate
their own hat.
Go>


Swan Love
Make two and surprise someone with a pop-up card. Go>







Origami Story
How being late for a haircut led to this box and more. Go>

Why...
is this pretty paper on a clothesline? Find the answer here.
Go>



Spring has Sprung!
Hot off the
presses are the instructions for
the easy flower from one of our recent workshops.
Go>


Sing Along!
Sarah and Ben fold cranes while listening to our own original song. You can, too!
Go>


Tip-Toe through
the Tulips
This tulip made
from the crane
base is a cinch!
Go>


Lily with Six Petals
Ready to move beyond the square? Try this realistic lily that starts with a triangular piece of paper. Go>

Something's Fishy
Make this easy goldfish. Then make a bunch
and turn them
into a mobile.
Go>

Big Bad Betta in a Bowl
Add plants and rocks, but please don't add water! Go>


Congratulate
the Lovebirds
Give them a card that stands out
from the rest.
Go>



5 Ways Origami is Extremely Good for You


and kids, seniors, and everyone in between. Go>


Shortage of rainbows and
leprechauns in your neighborhood? Well, then why not make your
own pot of gold?

Chocolate coins in this origami
box are as good as gold. Go>
My goal is your success and enjoyment of the fascinating craft of paper folding, with an emphasis on creative ideas for

using and displaying

your completed models.

(Temporarily discontinued...) Whenever I update this site, I send my readers a short email to let them know. Find out more or sign up to be on the list.

Happy folding!

Barb


Origami art classes for adults and kids in Milwaukee, Wisconsin.
Get a free e-newsletter that notifies you of new origami projects, new free folding instructions, and other updates to All-About-Origami.com.
A collection of free origami folding instructions that you can really follow.
Origami for Kids: Free craft how-tos and games, flapping cranes, fish mobiles, and more.
Take a gander at some origami projects made by our readers, workshop participants, and staff.
Submit your photos to the Origami Photo Gallery, comment on others' projects.
A collection of free origami folding instructions that you can really follow.
Nifty ideas for using and displaying origami models.
Origami News & Views
News and articles from the world of extreme origami
Our best tips and tools to help you get the best results and have maximum fun crafting origami.
Check out this unique collection of origami paper and ready-made items for displaying your origami projects.
Search all-about-origami.com
This website is created for fans of origami just like you by several fellow folders.
Contact all-about-origami.com
All-About-Origami.com's Privacy Policy
Here's what you should know about origami copyrights.