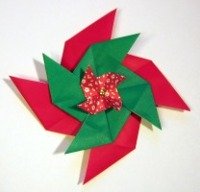 Beautiful Ornaments
The beaded ornaments shown above are an easy project that you can make with or without beads.

< If you're looking for an even easier project for kids or beginners, try this pinwheel ornament.

All of the ornaments are a great way to recycle scraps of pretty wrapping paper. Check our tips for cutting your paper perfectly square.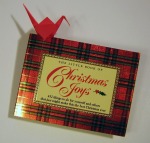 Peace Crane Bookmark >
This bookmark based on the symbol of peace and good luck is a nice gift to slip in your holiday greeting cards. A favorite teacher or librarian is sure to appreciate one!



---

October 2010






Make an Animated Alien!


Or fold an x-wing spacecraft or even a whole galaxy!
Read more >



Neat Trick: Two Treats in One

Surprise someone with Halloween treats in an origami box. It's time to start folding holiday gift boxes, too. Click for free instructions >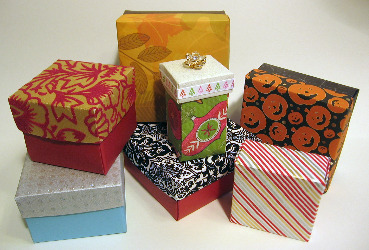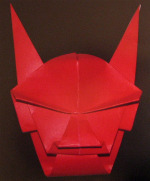 More Halloween Fun
< This mask is devilishly fun when made from our super-sized paper. Read more >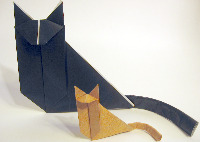 The Coolest Cat


Find out why this model by Chris Alexander is our editor's favorite.
Read more >




---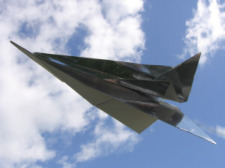 Put on Your Own Airshow
"Paper airplane" doesn't adequately describe this beautiful jet plane.

It will the steal the show in terms of style and flight performance.

For a real show-stopper, make a whole squadron from actual aviation charts. Read more >


---
You can quickly whip up some nifty party decorations with 12-inch square pieces of scrapbook paper and our instructions for the basic box.

This Fourth of July Box can do double duty as a snack holder and table decoration. We simply added some confetti stars and a fancy toothpick to two origami boxes with lids.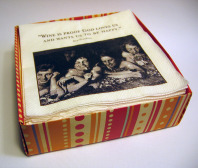 Cocktail Napkin Holder With another piece of 12-inch scrapbook paper, at Step 5 of our instructions, fold up the sides 1 5/8 inches to make the perfect size for a stack of 5-inch stack of 5-inch

square cocktail napkins.
Click for box instructions.

A simple origami cup makes a fine Hat or Popcorn Bag

---
May 2010 - Mother's Day, Weddings & Anniversaries,
& Weatherproof Origami


For information about all three projects above, click the photo or click here.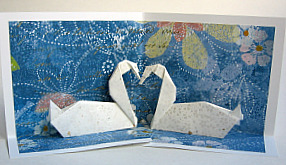 Romantic Pop-Up Card

This unique pop-up card features a pair of graceful swans with their necks forming a heart-shaped arch.

For card instructions, click the photo or click here.

For the swan folding instructions, click here.


Weatherproof Origami

Yes, you can take your best paper and completed models outside, after a little preparation.

For instructions, click the photo or click here.
---
April 2010 - Flowers and Chocolate Egg Holders

---

March 2010 - Shamrocks, Fish,
and a Pot O' Gold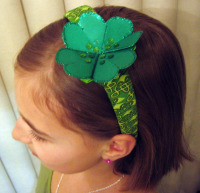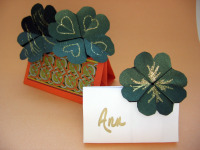 Shamrocks and Shamrock Headband
More accurately, these are four-leaf clovers. In any case, anyone would be lucky to make or receive one.
Go>
Something's
Fishy
Make this easy
goldfish. Then
make a bunch
and turn them
into a mobile.
Go>



Big Bad Betta
in a Bowl
Add plants
and rocks,
but please
don't add water! Go>



Pot O' Gold


Shortage of rainbows and
leprechauns in your neighborhood?
Well, then why not make your
own pot of gold?

Chocolate coins in this origami
box are as good as gold. Go>
---
February 2010 - Valentine's Day Cards, Gifts, and Decorations

Even if it's not Valentine's Day, you might find projects here for weddings, anniversaries, or anytime you want to let someone know you care. Go >


---
We add new projects every month.
Sign up to be automatically notified or find out more.

All About Origami Home

Copyright Policy