So what is "extreme origami?" We define it as origami being done by scientists, engineers, and artists – people who take it beyond a handicraft and into the realms of mathematics, computer modeling, and fine art.
There's a lot happening in these areas today.
We'll use this page to share any news items about extreme origami that we encounter.
It would be great if you would like to share something through this page. Please submit items through our Contact Us page.
Here are three of our recent discoveries: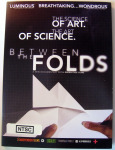 Stories of 10 Artists and Scientists. Through the site origami-usa.org, we were clued into the existence of a new documentary film, "Between the Folds." It aired on PBS in December. We totally missed it.

But Santa must have known the DVD could be purchased at greenfusefilms.com or Amazon because we found it under the tree Christmas morning.

It's a mesmerizing film and gets our hearty recommendation.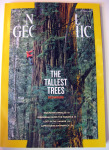 Origami Everything. Did you know there was an article about origami in the October 2009 issue of National Geographic magazine? In fact, the article was subtitled "Extreme Origami."

The article describes a paper airplane that Japanese scientists hope to launch from the International Space Station.
Won't it burn up, you ask? They're hoping the 12-inch-long aircraft's slow fall and protective coating will prevent that.
Why do it? They think it will inspire new aircraft designs.
The article also described a telescope lens folded of plastic and a medical stent graft that could find a home in one of your arteries someday. Now that's extreme.
For more, go to ngm.nationalgeographic.com/big-idea/03/origami. As a bonus, you'll find a link to a fun Geometric Puzzle Game.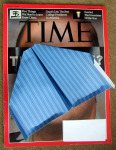 Best Invention Number 45. Another origami airplane made Time Magazine's 50 Best Inventions of the Year (November 23, 2009).
The airplane made the list by setting the world record for the longest flight by a paper airplane. The designer also hopes to launch his planes from space.
The article included the folding instructions for the airplane, called the Sky King. We made it out of regular white paper and found it to be rather ordinary. And it's flight characteristics were disappointing. But there wasn't a lot of detail provided, such as the size or type of paper used.

We googled "Sky King paper airplane" and found folding instructions and tips on other sites.

Two changes led to a vast improvement: Use heavier paper (we used scrapbook paper) and fold elevators at the back edge of the wings as shown in the photo above.

You can find the article at time.com, but, when we checked, the folding instructions were incomplete. If you're interested in making the airplane from the original article, we suggest a trip to your local library.

Want more? Just search the web for "extreme origami," and you'll discover a universe of exciting information!

Sign up to be notified of updates to this page or find out more.
Back to Top of Extreme Origami