Origami Photo Gallery
Take a gander at some origami projects made by our readers, workshop participants, and staff. To leave comments for the folders, click the link by their photo to go to their page.

Toot your horn! If you've made something from our instructions, or anything you'd like to share, we'd love to see it and show it off here. Submit your photos or find out more.

---
COMING SOON to this page: Origami submitted by Sara from Alexandria, Egypt. See it now by clicking the YOUR Photos link at left, and scroll down.

Origami Flowers from Around the World

Japanese-Style
Flower Arrangement


Bob F.


Winnipeg, Canada

To see more of Bob's work and read some tips he shared, click here.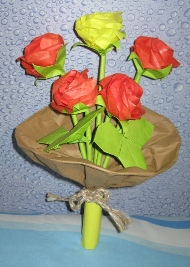 < Rose Bouquet
Alale Kavoosi
Tehran, Iran
To go to Alale's page, click here.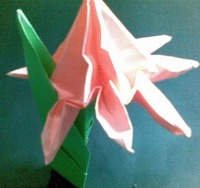 Eight-Petaled Flower

Shabbir Bandukwala
Karachi, Sindh, Pakistan
To read the story behind this flower,
click here
.
---

Christmas Tree and More
Gretchen F.
Minneapolis, Minnesota

This huge collection is carefully packed away every year to be enjoyed the following holiday season.

To see all of the 20+ photos that were submitted, click here!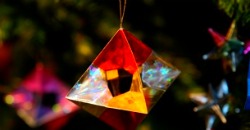 ---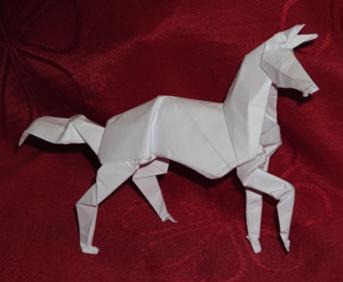 Artist Francisco Valdés from Santiago, Chile, seems to have discovered origami only recently, but you wouldn't know it by looking at the numerous advanced models he's been completing.

Check out his fantastic collection of work on Francisco's page.
---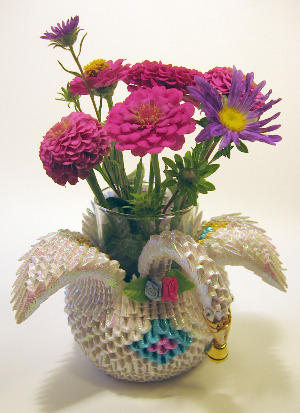 With Love from Thailand
Ornnapas K.
Lom Sak, Thailand

I made this swan for my boyfriend.

Editor's note: This is a type of modular origami known as "Golden Venture." Here is its history, according to Wikipedia:

"In 1993, a group of Chinese refugees were detained on the ship Golden Venture and held in American prison, where they began making elaborate models combining traditional Chinese modular paperfolding (utilizing materials such as magazine covers) with a form of papier-mâché (using toilet tissue); these models were gifted to those aiding the refugees and sold at charity fund raisers. Media coverage of the refugees helped popularize traditional Chinese modular folding worldwide- which became known as 'Golden Venture folding'."

A Japanese-American friend of mine, named Kay, is also a fan of this type of origami. I had an opportunity to photograph two of Kay's creations - another swan and an owl, together with the one made by Ornnapas: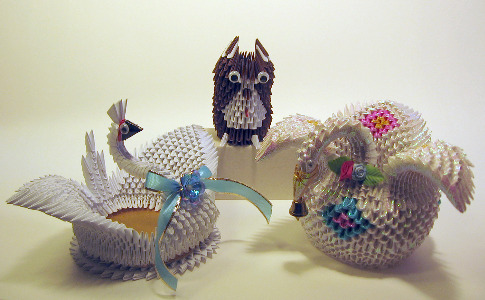 Kay uses books of patterns from Japan for her designs. She said the title of one of her books literally translates into English as "Paper Block." She estimates her swan required 200-300 pieces of paper.
Here's a close-up showing how the individual pieces fit together.

You can add a comment on Ornnie's page.

Or, create your own page.

---
Kusudama Flower
Cindy
Torrington, CT

"i had an old falling-apart book and, rather than throw it out, i thought it should do something useful with it."


Read more about kusudama on Cindy's page.

---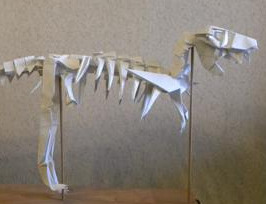 Origami Artistry


by Pete Smith
Wauwatosa, Wisconsin

Pete says this intricate T-Rex skeleton "took 30 pieces of paper and countless hours."


See more of this talented artist's work on Pete's page.




---
Puppies and Kitties

by Mrs. Schmale's
First Grade Class
Mequon, Wisconsin

18 students and their teacher each made a puppy and a kitty.

Click to learn more about our workshops

---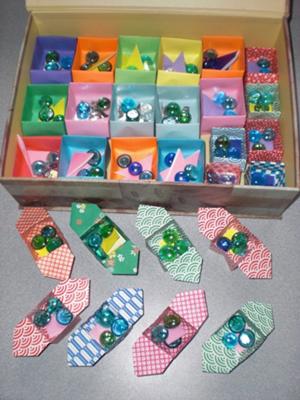 Inner Gift Boxes

by Sue Mosher
Arlington, Virginia

As part of a retreat on leadership, I made a box for each person and filled it with glass "jewels" to help embody their personal gifts, the prized qualities that they might want in turn to give back to their group. My hope is that, when they glance at these boxes in their homes and offices, they'll be reminded of how special they are and how each inner gift comes with the authority and obligation to use it well.

Read more on Sue's page

Make a box!


---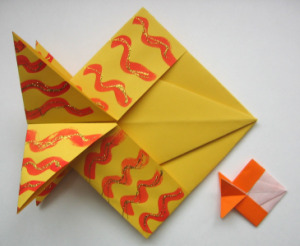 Jumbo Goldfish

The big fish was made from a large sheet of textured paper from a speciality artist-supply store, where I also purchased the paints.

For comparison, the small fish is made from a standard 6-inch piece of paper.

Folding this fish is fun and easy. Make one!


---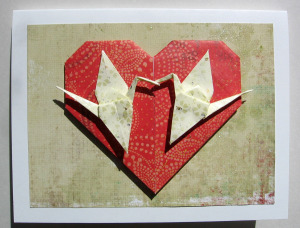 One-of-a-Kind Wedding Card



Two cranes kiss over a basic heart.

The cranes are made of an exquisitely beautiful gold-flecked paper.

The background is a sparkly piece of scrapbook cardstock glued onto a blank card.


---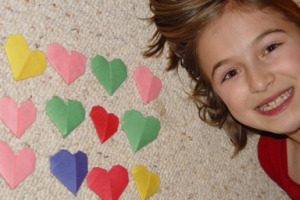 My Valentines
We loved your workshop! The next day, my mom and I made 24 hearts for my teacher and class. I also showed my classmates how to make them at my school's Valentine's Day party.

---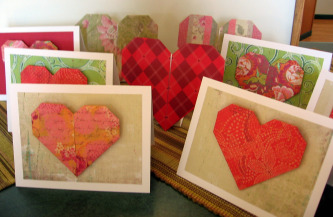 Valentine Hearts and Cards
by participants in the Curative Memory Program. This was our second workshop with the group (see next entry for info). The 12 participants each made a large heart and at least one card. The large heart was made from a 12x6 inch piece of scrapbook paper and mounted on a simple stand made from a scrap of cardstock. The ones on the cards are from an 8x4 inch piece of scrapbook paper.
Click for heart folding instructions.

---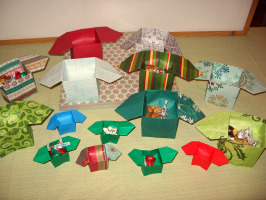 Candy Dish Boxes
by participants in the Curative Memory Program, Waukesha, Wisconsin. The program provides support for individuals newly diagnosed with cognitive issues. Our senior origamist, Barbara Boxster, volunteers one day week at the program. Realizing it's excellent brain exercise, Barb taught the group to make these boxes.
Click for folding instructions.
---
Projects by Advanced Class
Menomonee Falls, WI
Public Library

The librarian brought in a stack of books and materials. We chose our own projects. We helped each other and got great new ideas.

F U N!





---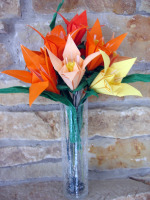 Vase of Lilies by Barb H.









---



Rainbow of Cranes with Beads
and Crane Chandelier by Charline Samsel