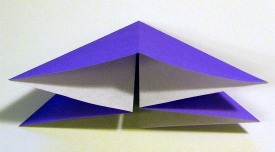 There are other ways to fold this base, but from the many classes I've taught, I've found this method more often achieves good results and teaches a valuable skill, the squash fold.



Materials

A single piece of square paper

The origami waterbomb base is also known as the balloon base or triangle base.

Like the square base, or preliminary fold, it's called a

base

because it's the starting point for many origami models.

If you can fold a square base from memory, you already know the waterbomb base.

Just think of it as starting 90º (or ¼) turn from the square base.

I start folding a square base with by folding the paper in half side to side, so I start the waterbomb by folding it in half

corner to corner

.