How to Fold an


Origami Heart

Designer: Francis Ow. Francis is a specialist in origami hearts. Search on his name to see more of his work and to shop for his books.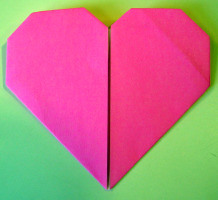 This heart model is nice because it uses a half sheet of paper, which lets your paper go twice as far. This is a good thing if you're making several Valentine's Day cards.
The slit in the front is the perfect place to tuck a secret message. >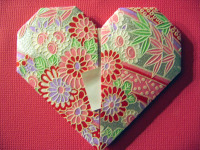 Tip: If you've never made a squash fold, we suggest you practice a square base (preliminary base), first. This heart has a two small squash folds which might be tricky if you're a beginner.

Materials

One piece of square paper, or a piece of paper that is exactly twice as long as it is wide; for example, 6"x3".


Caution:

Standard origami paper is usually 5 7/8" square, not 6". Find the center by folding it in half, or measure 2 15/16" on your paper trimmer.

1. Cut a square piece of paper in half.
See cutting tips.



2. Start with the white side up, if there is one.



3. Fold the two lower corners up to meet the top edge, forming a triangle.

Tip: The most important thing is to make the two edges meet neatly in the center because this will be the front of the heart.


4. Turn the model over and orient as shown.

5. Fold the outer corners up to meet the tip, forming two small triangles.



The entire shape is now a perfect square.

6. Lift one of the little triangles you just made.



Run your finger up to the point inside.

7. On the outside, squash-fold into a small square.

8. Repeat the squash fold with the other small triangle, and you have this:

9. Lift the top most layers of the little squares you just made.

Peak inside, and you will see a point.

10. Fold the point up, in half.

11. Press everything flat again.

12. Working with both layers of one of the little squares, grab the outer corners and fold them to meet in the middle.


If you're working with thicker paper, or making an extra large heart, fold the corners one at time. Start by folding the inner corners down as far as they will go.




13. Fold the points you just made in half.



You might want to put a spot of glue under these points.



Clothespins, or a chip bag clippy, are good for clamping while the glue dries.



14. Turn over. Tah dah!

Your origami heart can now be used to make a
Single-Heart Valentine Card
or a
Double-Heart Valentine Card
or decorate the top of a masu box.



What other ways could you use this origami heart?




Back of top of Origami Heart

See other Valentine project ideas