How to Make an Origami
Free-Standing Heart Flower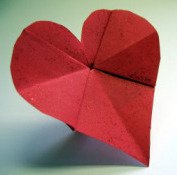 Nothing could be simpler. Surprise someone by secretly putting a sparkly origami heart on their desk or bedside table.
Materials
Red or pink paper, same color on both sides (recommended), 5- to 6-inches square
Calligraphy pen in a metallic shade, optional
Note: If you use basic origami paper, the stem will be white. To avoid this, we went to our local print shop for sheets of 8½ x 11 solid red paper. We cut it into 5½ inch squares with our paper trimmer. Most print shops can cut it for you, or they will have a cutter you can use free of charge. Avoid the old-style "guillotine" paper cutters; it's virtually impossible to cut a perfect square with them.
Instructions
1. Fold the Morning Glory Single-Heart Variation.
2. Unless you did already, fold the stem as shown here.

3. (Optional) Spray with glitter spray.
Tips: If the heart keeps falling over, try increasing the angle between the flower and the stem. If it still falls over, you could whip up a Model Display Stand from ordinary white paper, or any paper you like.

Bonus idea: You could write a short message on the face of the heart using a metallic pen.
See more origami Valentine projects