How to Make an Origami
Crane Card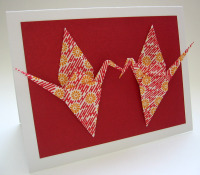 A pair of origami cranes on a card is a lovely symbol of love or friendship. You could add a heart for a wedding or Valentine's Day (see example below).

You can find the following items in the scrapbook- and paper-craft area of your local craft store or online:
Materials
Two pieces of origami paper, 4½ inches square

6½ x 5 inch card with envelope

A piece of cardstock to coordinate with your origami paper cut to 5¾ x 4¼ inches
Quick-dry adhesive for paper or Tombo Permanent Adhesive

To make the card:
1. Fold the origami cranes through Step 24.

2. Attach the cardstock to the card using adhesive.
3. Attach the upper wings with adhesive.

4. Attach the lower wings with sticky foam.

Note: Be sure to keep the foam far enough away from the edges of the wings so it doesn't show when the card is viewed from different angles.

Here's another idea: Put two smaller cranes on top of a basic heart.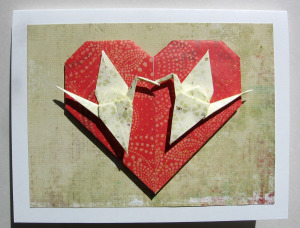 The photo really doesn't do this card justice. The background is actually a very glittery piece of cardstock. The heart paper is lightweight scrapbook paper. The cranes are made from beautiful origami paper with metallic gold flecks. It's much prettier in real life!



Browse our Origami Model Library