How to Make Origami


Heart Flowers and Iris Leaves in a Display Stand

With three simple models, you can make an unlimited variety of gifts and decorations. Just a few examples: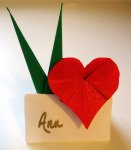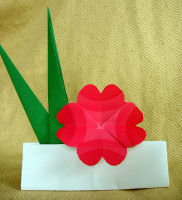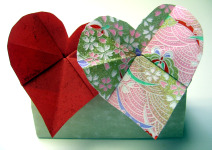 The model for the four-heart flower is the same as the single one, just cut differently.
The three models are the Origami Heart Flower, the Iris Leaf, and the Model Display Stand. (Click a photo for the folding instructions.)

By varying the sizes of each, and using different papers, the possibilities are endless.
We used origami paper, color copy paper, and scrapbook paper with a heart pattern. We sprayed the red hearts with red glitter.
Have fun mixing and matching!
To surprise someone with a truly unique card-and-gift-in-one that arrives by regular mail:
1. Make the display stand and the other model(s).
2. Disassemble the display stand and flatten it.
3. So that the recipient will know how to reassemble it, mark the tabs and slots as indicated in the folding instructions. Print the assembly instructions for them.
4. Put the recipient's address on a sturdy envelope.
5. Put the flattened stand, the other model(s), and instructions in the envelope and mail. You may need extra postage.
Back to more Origami Hearts and Valentine Projects